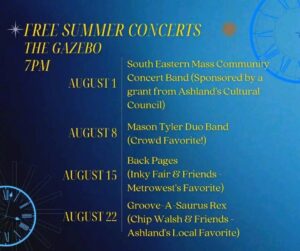 Ashland Free Summer Music At the Gazebo
You haven't missed all concerts, there's four remaining shows and they're some of the best! The following shows remain so pull up your lawn chair and spread your blankets!
August 1st, 7p Tuesday – Southeastern Mass Community Concert Band.
August 8th, 7p Tuesday, Mason Tyler Duo Band
August 15th, 7p Tuesday – Backpages, Inky Fair & Friends
August 22nd, 7p Tuesday – Groove A. Saurus (Chip Walsh & Friends).