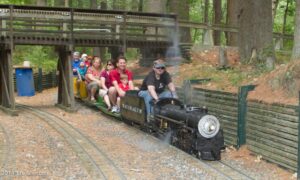 Would you believe that down a nondescript, 1/2 mile, winding dirt road in Holliston exists a magical kingdom of trains?
And if you love trains, you're going to really love the Waushakum Live Steamers August Event. You and your kids will find a theme park-like experience of trains and it's open to the public August 25, 26, and 27. These ride-on trains are typically running around 10am throughout the afternoon, sometimes as late as 3pm.
Throughout the year, the Waushakum Club hosts approximately four similar events open to visitors. Usually, there will be someone at the track by 10AM and until the late afternoon.  However, all depends on when members arrive and decide to leave.  No one is required to be there. We are members of Waushakum because we have a passion for this great train hobby.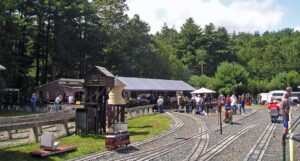 For your safety and that of all involved, please abide by all of our rules and enjoy your visit! The Waushakum Live Steamers is at the end of Arthur St. in Holliston, Ma. When you reach the cul-de-sac at the end of Arthur Street, take the ubiquitous dirt road next to the large rock that says, "Waushakum."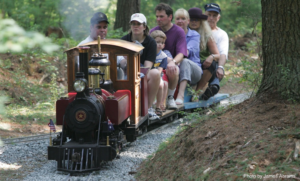 Thinking of bringing your own locomotive? Please read our safety and operating rules and visitor information to learn more.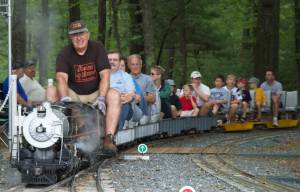 Joining the club costs only $150 per year plus a one-time $50 initiation fee. Membership allows you to run your own trains at the events! To join, email Jim the President at:
president@waushakumlivesteamers.org