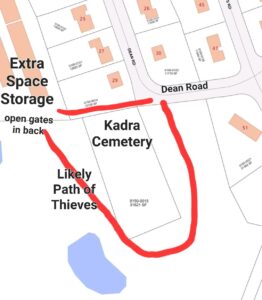 – Staff Writer
Ashland MA – A break-in and theft occurred Saturday night into the morning hours, August 19th, at the Route 135 Extra Space Storage, 89 Waverly St, Ashland, MA.
Some customer's storage items were stolen. It appears that theives loaded their cargo Vehicle with stolen goods parked near the Kadra Family Cemetery on Dean Road, Ashland.  Ashland Police found a trail of stolen items that cross Steve Hickey's property leading from the back of Extra Space Storage to near the Dean Road Cemetery. The resident at 29 Dean Road (last house before cemetery) said, "Evidently they went through the chain link fence that is behind the woods of our property…We do not have a camera in the back, but will be looking into putting one in because of this incident."
Residents of the circle that makes up Roberts/Dean road reported concern over the lax security at the back of Extra Space Storage, "Multiple gates in the back of the Extra Space Storage have always been left wide-open at all hours of the day without any apparent concern for customer's storage items. It was like Extra Space Storage was asking for trouble," said one resident of Roberts Road.
The Ashland Police are asking if residents of Dean Road and Roberts Road can check their security cameras for activity related to this theft.  If you can give the Ashland Police any tips on this crime, please call: 508-881-1212.