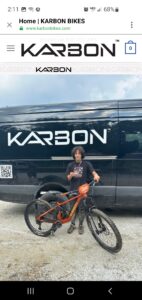 – By Helen Nickole
Interview With Tarek Tabbara of Karbon Bikes, Holliston
This week we'd like to highlight "Karbon Bikes" in Holliston for our Business Spotlight Series. Here is an interview with their owner Tarek Tabbara. His website is: KarbonBikes.com
1. What is your business name? And how did you arrive at the name?
The company's name is Karbon Bikes, LLC, DBA Karbon
2. What does your business do?
Make mountain bikes and electric mountain bikes.
3. How long have you been in business?
This is our 2nd year.
4. What is your location?
Holliston, MA
5. What motivates you and what is your mission in business?
Mountain biking is one of the best forms of exercising with massive mental health benefits. Whether it's kids or adults, the sport offers a sense of community and camaraderie, not to mention the sense of accomplishment that comes with riding challenging terrain. It's a great way to help cope with anxiety and depression, especially coming out of the pandemic. For more info on this topic, see this post:
6. Are you an Ashland Business Association or Metrowest Chamber member?
No
7. What is interesting about your business?
Mountain biking is something that appeals to all ages, fitness levels, skill levels. It's a very inclusive sport. It's also a very social sport. I have made more friends in the years since I've been riding than I have in the years before. In fact, I ride with a great group of friends on trails right next to their Ashland home every Monday evening. While this is technically fun, not actual work, the lines get blurry sometimes.
8. Do you have any advice for new business owners?
Make sure to have supportive people in your life. Whether it's family or friends, there will come a time when nothing seems to be working right and having that support base will help you get through those tough times.
9. What could your town do to help support local businesses?
Promote local businesses through the various town events throughout the year.
10. What makes your business unique and stand out from other businesses in your industry?
Karbon is the only New England based mountain bike brand. Most other mountain bike brands are based in either the Rockies or West Coast. This enables us to really fine tune our designs to suit our challenging terrain.
Thank you for letting us interview you!