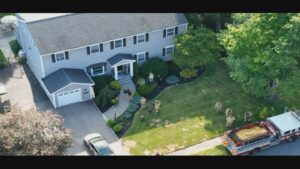 Ashland Fire was on-hand for the Holliston house explosion on Westfield Drive. The crews provided mutual aid to the Holliston Fire Department for the tragedy. The Ashland Fire Department provided ALS for one of two victims from the scene to the Holliston High School where two LifeFlight Helicopters were waiting to fly the patients to Boston Hospitals.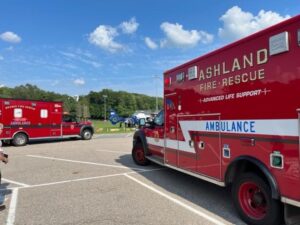 Two men are recovering after that explosion on Westfield Drive, Holliston left the two men with serious injuries.
Officials are now trying to figure out what caused the explosion at the home on Westfield Drive on Monday evening.
The incident happened just before 4 p.m. Monday. The two men — ages 59 and 61 — were found lying in the yard of a nearby home when first responders arrived, being helped by neighbors who came running.
They were both conscious but, due to the fact they were both severely burned, were airlifted to separate area hospitals.
The loud explosion rocked the neighborhood and got Kristen Mahoney to run out of her house.
"It was scary, I was scared, and I was worried for them," said Mahoney.
She found her neighbor and an electrician burned, asking her to call 911. She stayed with them on her lawn until firefighters arrived.
"I put them on my lawn, and I knew they were going to go into shock, and I wanted to make sure they were OK so I called 911 and I know Holliston is a great town and they came right away, the ambulance and took care of them and everybody was here and the Holliston Fire Department was amazing," Mahoney said.
The fire chief says the homeowner and an electrician had been trying to troubleshoot the boiler in the basement when there was an explosion. The boiler wasn't working after the storm on Friday.
The men suffered burns on more than a third of their bodies according to the chief. They were taken to two Boston hospitals by medical helicopter.
"It's a great community to live and work in and neighbors take care of neighbors and people were helping as best as they could until first responders arrived," Holliston Fire Chief Michael Cassidy said.
The chief says the explosion damaged the basement and the first floor of the house. The family can't stay there right now.
Electrical crews shut off the power and went door to door making sure neighbors were safe. Friends and neighbors are now coming by the home hoping the men will be OK.
"They're wonderful people, wonderful people, you couldn't have nicer people they've been here a long time," said family friend Fran Gorman.