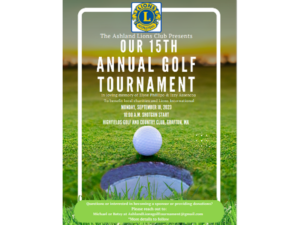 Ashland Lions Club August 2023 Update
Annual Lions Golf Tournament
Join us for the Ashland Lions Annual Golf Tournament, to be held Monday, September 18th, 2023, at the Highfields Golf and Country Club in Grafton. There will be golf, a meal, raffles and a day of fun to support the Ashland Lions and their mission of donating to Eye Research and Local Charities. Sponsorship opportunities available. For details email golf@ashlandlions.org or visit our Facebook page.
Eyeglasses and Cellphone Collection
Eyeglasses and cellphone collection is a year-round project with collection of used prescription and nonprescription eyeglasses, sunglasses, hearing aids and cell phones.
Collection boxes are located at:
Ashland Post Office
Ashland Senior Center
Old train station – Ashland
Moody Optical – Ashland
Middlesex Bank – Ashland
Fayville, MA Post Office
Studio Optics – Framingham
Southborough Senior Center
Southboro Post Office on Rt.85
TJ's Food and Spirits
The Residence at Valley Farm
Lions Club Red looks good on you!
Why not make Lions Club Red your color this Fall and participate in service to the community while meeting some great people and having some fun? We will be holding 3 informational events this Fall where you can learn what Lionism is all about. If you're interested in becoming a member of the Ashland Lions, please reach out to us via email at membership@ashlandlions.org for details.
Stay up-to-date on Lions happenings
To see the latest status of our events, please visit our Ashland Lions Facebook page. Click the Like button and you will be automatically notified of changes or cancellations. While you're at it, be sure to follow Ashland Town News too!
King Lion Dan Mitchell
Ashland Lions Club President