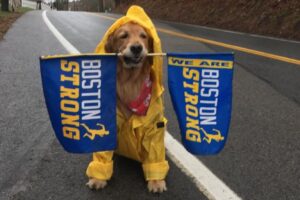 The State of Ashland
– by Jon Fetherston
Here's what I know…
I had to pick up garbage from the street, again this week, dumped by Waste Management…but at least they came!
Tomorrow is an important election/voting day in Ashland. My guess is that 90%, of this town is not aware of that. That means a very small percentage will decide an important topic for all. That's concerning to me. The Polls open 10a-7p at the Ashland High School.
Finally…a free statue that would require almost no maintenance [memorializing Spencer the marathon dog] that would be highlighted for years, if not decades on Marathon Day was rejected by the Selectmen…seemed like a no brainer to me. I understand the logic of wanting to honor Ashland's heroes, as there are many. So when is that meeting and dedication happening?
None of this is meant to be negative, yet an opportunity to step back and acknowledge we can and must do better.
– by Jon Fetherston, 7/25/23